Dear Colleagues,
We are pleased to announce that the next XI National Stroke Conference of Indian Stroke Association is being held on 17-19 March at Amritsar, the theme of the conference is STROKE: PRESENT AND FUTURE.
There will be talks by International and National Speakers on all aspects of Stroke, recent trends and future concepts. There will be workshops on Thrombolysis, Interventional Neurology, T.C.D, Ultrasound Carotid. Botox Workshop for Post Stroke Spasticity, Research Module etc.
There will be a half day Punjabi mela and half day local shopping for accompanying persons, special official tour to Golden Temple, Jalian Wala Bagh.
Last but very important Punjabi (Amritsari) food and hospitality. It is our privilege to Welcome you to both Academic and Gastronomic feast.
With Warm Regards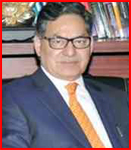 Dr. Ashok Uppal
Organizing Chairman